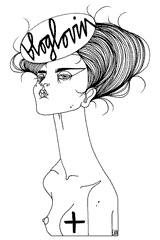 You can now follow me on Bloglovin. I actually had an account for quite a long time but I'd forgotten about it. Gosh, it's so awful just sitting here watching the time pass. I came home early, so now there's not much to do for me.. Ok, that's a lie! I have to prepare my graduation exams (only about 3 more weeks to go! aaaah!) But it's so stupid. The topic in French will be: PARIS. Just Paris. Could be absolutely anything- from culture to history or art or geography or.. :( So now I'm trying to sum up some information I got on wikipedia, having a hard time trying to sort out what might be important and what might not be since I can't learn every little thing. So now I'm going back to forcing myself into this.. I say I want university, so I have to do this sh**!
Ihr könnt mich absolut auf Bloglovin verfolgen. Ich war da eigentlich schon länger angemeldet, hatte es aber total vergessen >.<
Meine Güte, ich sitze hier rum und sehe zu wie die Zeit vergeht. Ich hatte heute schon nach der zweiten Stunde Schluss, also hab ich jetzt nichts mehr zu tun.. Das ist gelogen :S Ich muss für's Abi lernen..nur noch knapp drei Wochen! AH! Aber das Thema für Französisch ist doch echt mal doof: Paris. Einfach nur Paris. Da kann ja alles drankommen..Geschichte, Kultur, Tourismus, Geographie oder was weiß ich was. Damit ich nich das ganze pariser Mittelalter auswendig lerne, muss ich jetzt mal gucken, was wirklich wichtig ist und was eher nicht so. Nun denn, ich zwinge mich. Wer studieren will, muss schließlich auch Abi haben.